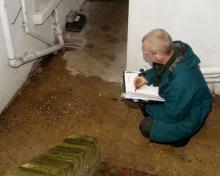 Pest control surveys are the starting point for any business seeking advice on an existing infestation, pest prevention or control.
At Cleankill we have highly qualified surveyors and field biologists who can visit your premises and complete a full inspection before providing you with a detailed written inspection report. This will cover any existing pest infestation, prevention and control opportunities, housekeeping and hygiene issues, as well as including recommendations on reducing the risk of attracting pests.  Field biologists can carry out regular inspections at food and pharmaceutical premises to help ensure compliance with any audit standards for which compliance is specified.
Contact Cleankill today and arrange a pest control survey or inspection.