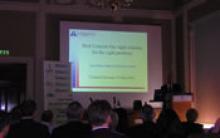 Know your enemy!
Cleankill Pest Control offers a range of seminars to help your business understand the threat posed by pests. Understand their habits, preferences and how an infestation can impact on your business.
We'll visit you, bringing live non-pest rats and cockroaches if you wish, and chat to you about the pests of your choice. Popular topics include pigeons, cockroaches, bed bugs, and how to treat blocks of flats.
We will happily talk to you about any aspect of pest control and how it can impact your business. Usually there is no charge.
We also hold regular customer seminars at a venue in Central London.
Contact us for more details.
Read about a seminar Managing Director Paul Bates gave to the Sutton United Business Club in 2017.