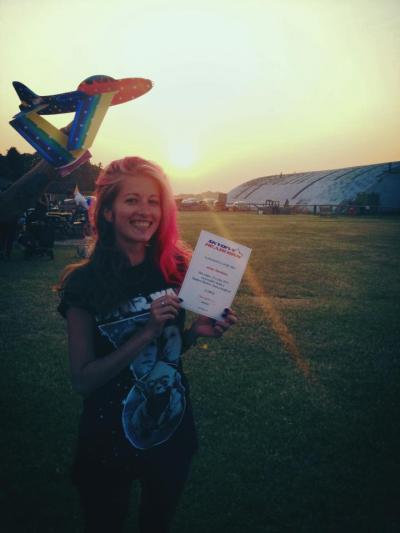 A member of staff from Croydon-based Cleankill Pest Control has raised hundreds of pounds for a children's charity by jumping out of a plane.
Arina Novikova, 27, from Purley, the company's sales controller, managed to raise her target of £450 by taking to the skies for The Children's Trust Tadworth – Cleankill's sponsored charity. She said: "I am very pleased to have reached my target of £450. I had to wait eight hours for the jump as, due to cloud cover in the morning, everyone was delayed. I was actually the last person to jump. "I told my instructor that I've done a jump before so he asked if I wanted to do some 'crazy stuff' in the air and I agreed. "The free fall lasted about 45 seconds and he showed me how to turn in the air. It was a great feeling. I got to manoeuvre in the air whilst falling at 120 to140mph. At around 5000 feet we opened the canopy. It was very still and quiet and we could actually talk. He let me control the canopy most of the way down and taught me how to turn - it was an exhilarating feeling to be able to spin in the air. I felt excited and calm at the same time. The instructor told me that he's never had anyone so calm jump with him. "To be able to do what I love and raise money towards such a worthy cause is a blessing.
I knew about the Children's Trust through working at Cleankill and when I looked at the work they do for these wonderful children, I wanted to do my own little bit. And thanks to everyone that sponsored we reached the target. I will keep doing things for charity as long as I can."
Cleankill is a specialist provider of pest control services to retail, commercial and industrial properties throughout the UK. The company deals with 'distress' pests such as wasps and fleas, as well as offering preventative maintenance against public health pests such as mice and rats. Cleankill can also clear and proof buildings against pest birds.
ENDS
For further information or interview requests, contact Suzi Christie at Blueberry PR on 01435 830031 or e-mail suzi@blueberry-pr.co.uk